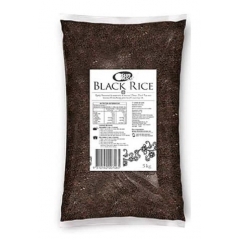 There are no additional images for this product.
Sunrice Black Rice. 5kg.
$39.40
Average Rating: Not Rated
Availability: In Stock
Description
In ancient China, Black Rice was a forbidden indulgence for most.
Today, it is freely treasured for its nutritional values, exquisite burgundy-purple colour when cooked, chewy texture and rich nutty flavour. SunRice Black Rice is commonly prepared as a dessert, such as black rice pudding with coconut milk and seared fruit. Or to really impress your next dinner guests, create a striking contrast to seared fish and salmon or as a majestic feature in a sumptuous summer salad.
It contains vitamins and minerals such as Thiamine. Niacin and Magnesium and provides a source of protein and fibre.
All rice is naturally gluten free.
Reviews (0)
Write Review
Your Name:
Your Review:
Note:

HTML is not translated!
Enter the code in the box below:


Continue