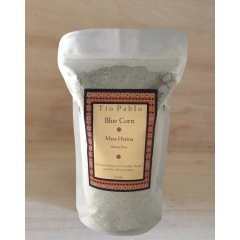 There are no additional images for this product.
Tio Pablo Blue Corn Masa Harina. 600gm. GLUTEN FREE
$11.00
Average Rating: Not Rated
Availability: In Stock
Manufacturer:
Tio Pablo
Description
Blue corn is grown in Mexico and the Southwestern United States. It is one of the main types of corn used for the traditional Southern and Central Mexican food known as Tlacoyo, and was originally developed by the Hopi Tribe of Native Americans. Blue corn masa harina is a flour created from blue corn and treated with a diluted solution of slaked limestone, a process called nixtamalisation.
This process creates a source of dietary calcium and allows niacin to be absorbed into the digestive tract. It is a staple of New Mexican cuisine used commonly to make tortillas.
Reviews (0)
Write Review
Your Name:
Your Review:
Note:

HTML is not translated!
Enter the code in the box below:


Continue