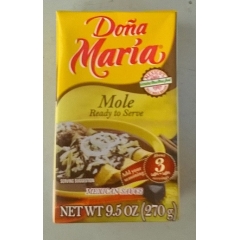 There are no additional images for this product.
Dona Maria Mexican Mole Sauce. Ready To Use! 270gm.
$5.00
Average Rating: Not Rated
Availability: In Stock
Description
The classic mole version is the variety called mole poblano, which is a dark red or brown sauce served over meat. The dish has become a culinary symbol of Mexico's mestizaje, or mixed indigenous and European heritage, both for the types of ingredients it contains, as well as the legends surrounding its origin.

Use as a condiment or sauce for chicken, rice, beef, pork, enchiladas, quesadillas, tacos, beans, eggs, fish and all kinds of snacks.
Reviews (0)
Write Review
Your Name:
Your Review:
Note:

HTML is not translated!
Enter the code in the box below:


Continue