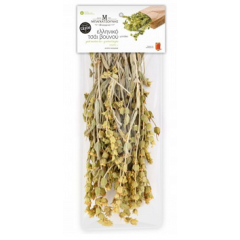 There are no additional images for this product.
Greek Mountain Tea Bunch 40gm.
$6.00
Average Rating: Not Rated
Availability: Out Of Stock
Description
This "mountain tea" is a Greek product and is collected and dried over purely natural way without having undergone any chemical treatment.
Sideritis, also known as ironwort, mountain tea and shepherd's tea, is a genus of flowering plants well known for their use as herbal medicine, commonly as an herbal tea. They are abundant in Mediterranean regions, the Balkans, the Iberian Peninsula and Macaronesia, but can also be found in Central Europe and temperate Asia.
It is delicious and aromatic and can be consumed as a beverage, hot or cold, with honey or plain.
The ancient Greek philosopher Hippocrates, the father of modern medicine, hailed Greek Mountain Tea for its benefits to the immune system and the respiratory system. For thousands of years, Greek families have been drinking the tea because they believe it has an abundance of health benefits.
Traditionally used as an anti-inflammatory, antibacterial, antifungal and antimicrobial, ancient wisdom says it has a positive effect on colds, respiratory problems, digestion, the immune system and mild anxiety. Modern science is now finding many of those stories to be true: recent studies indicate that it assists in the prevention of osteoporosis, Alzheimer's and even cancer and has a positive effect on a myriad of different ailments including colds, fevers, respiratory problems, digestion problems, and anxiety.
Reviews (0)
Write Review
Your Name:
Your Review:
Note:

HTML is not translated!
Enter the code in the box below:


Continue