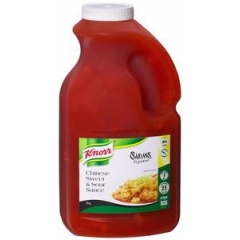 There are no additional images for this product.
Knorr Sakims Chinese Sweet & Sour Sauce. 2kg.
$0.00
Average Rating: Not Rated
Availability: In Stock
Manufacturer:
Knorr
Description
KNORR Sakims Chinese Sweet & Sour Sauce is a wet cook-in sauce, made with vegetables and pineappales. Ideal used for dipping or as a sauce for stir fry with chicken, pork or fish. It is also great served with vegetables and/or rice.

KNORR is one of the world's best known savoury brands, with KNORR products currently sold in 87 countires. With KNORR's long heritage and a deep understanding of Chef's needs, KNORR has become a culinary partner to Chefs throughout the world.
Reviews (0)
Write Review
Your Name:
Your Review:
Note:

HTML is not translated!
Enter the code in the box below:


Continue