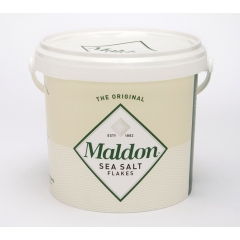 There are no additional images for this product.
Maldon Sea Salt Bulk 1.5kg.
$57.00
Average Rating: Not Rated
Availability: In Stock
Manufacturer:
MAD
Description
Maldon Sea Salt Flakes
Loved by chefs the world over
Accept no substitute for Maldon Sea Salt, because nothing else is quite the same. Maldon sea salt flakes are loved (is that too strong a word? No!) by chefs and shoppers the world over. It's the soft flaky texture of the sea salt crystals and the cleanness of the salt flavour they deliver that makes the difference. None of the bitter after taste that some salts leave; instead a freshness that enhances the flavour of all natural and fine foods.
Reviews (0)
Write Review
Your Name:
Your Review:
Note:

HTML is not translated!
Enter the code in the box below:


Continue