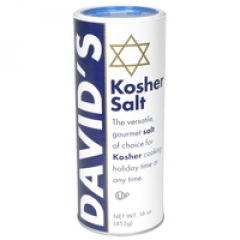 There are no additional images for this product.
David's Kosher Salt. 453gm.
$8.50
Average Rating:

Availability: In Stock
Description
This versatile salt is great for kosher and everyday cooking. Use it in cooking as you would table salt. Its grain has a coarser, flakier texture than table salt, and as such, makes for an attractive change of pace on the dinner table. It's attractively priced, as well.
Kosher certification, among other things, requires a purity standard. Part of the reason kosher salt is so popular among gourmet chefs is that it is free of additives that are found in regular table salt. Because of the larger crystals, this salt doesn't shake easily out of most shakers. But you can use it straight out of the container it comes in, or pick up a spare pepper grinder and put David's Kosher salt in there, grinding it into your recipes, or onto your food as you need it. Try using David's as a dry-rub marinade; the salt lock in the juices, making a more succulent meal.
Reviews (1)
Write Review
Your Name:
Your Review:
Note:

HTML is not translated!
Enter the code in the box below:


Continue