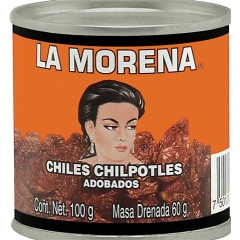 There are no additional images for this product.
La Morena Chipotle Peppers in Adobo Sauce 100gm.
$4.95
Average Rating: Not Rated
Availability: In Stock
Manufacturer:
La Morena
Description
La Morena brings you a delicious a can filled with delicious and mouthwatering smoked red jalapeño peppers in spices, vinegar, tomato sauce and ancho chiles.
Chipotle Peppers Scoville Heat Units - 5,000 > 10,000
Chipotle [pronounced "chee-POHT-lay"] is a red jalapeno chile, ripened, dried and smoked through a special process. They have a unique warm heat and smoky flavor that will give food a savory kick of flavor.

Serving Ideas:

Use Chipotle sauce in soups, sauces, and as a seasoning for meats, chicken, fish, seafood and stews.
Add chipotle sauce to quesadillas or to refried beans for a smoky and spicy flavor your whole family will love.
Use as a salsa to pour over tacos, quesadillas, tostadas, eggs, etc.
Features:
Home made style Chipotle Sauce
Mild
Product by La Morena
Calories 25 per serving (40gm.)
To retain freshness, Refrigerate unused chiles in an airtight container.
Ingredients:Tomatoes, Chipotle peppers, Onions, Garlic, Soy Bean Oil, and Spices.
Reviews (0)
Write Review
Your Name:
Your Review:
Note:

HTML is not translated!
Enter the code in the box below:


Continue