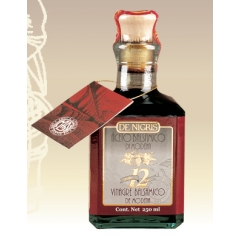 There are no additional images for this product.
12 Star Balsamic Vinegar 250ml
$22.50
$19.00
Average Rating: Not Rated
Availability: In Stock
Manufacturer:
De Negris
Description
12 star vinegar is a quality product that is fully matured in wooden casks. This wood imparts special flavours and the luminescent colour to the vinegar. It has a robust taste, a smooth sweet and sour balance and should be used directly on the food to be eaten. We also recommend it for barbequing meats, and in risotto.
The very elegant Cubica bottle contains the most classical quality of the Italian Condiment, Balsamic Vinegar of Modena. The 12 stars quality is superior due to the long aging in Slovenian Oak wood casks. This wood gives the product a distinct bouquet and sweet flavour, balanced by the scent of the wood itself. The colour is deep and dark, with a dense, syrup-like fluidity. It is excellent to enrich the taste of recipes such as rice, cheese and homemade pasta.
Reviews (0)
Write Review
Your Name:
Your Review:
Note:

HTML is not translated!
Enter the code in the box below:


Continue