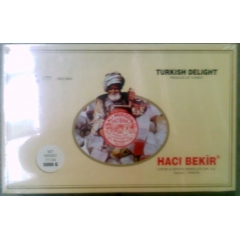 There are no additional images for this product.
Segman Assorted Loukoumi. Turkish Delight. 5kg
$59.95
Average Rating: Not Rated
Availability: In Stock
Manufacturer:
Haci Bekir
Description
From the time of its founding during the Ottoman Empire, the name Haci Bekir has become a legend in Ottoman and Turkish confectionery and a leading symbol of this art. The Haci Bekir story began in 1777 when Bekir Effendi moved from Araç in Kastamonu, a province bordering the Black Sea coast of modern Turkey, to Istanbul. Here, he opened a small shop in the Bahcekapi district of what we now call the Old City, in which he began to produce and sell varieties of lokum, or Turkish delight and akide, the boiled sweets much loved by Turks. On fulfilment of his religious obligation to make pilgrimage to the Muslim holy city of Mecca, Bekir Effendi became known as Haci Bekir, a title of respect granted to those who have completed the hac, or pilgrimage.
Today, Haci Bekir's tradition is being carried on by the family as Ali Muhiddin Haci Bekir Confectioners, and the company can proudly say that this first shop represents the only business in Istanbul which has operated from the same premises for a period of more than two hundred years.
The term Turkish Delight was actually coined by a British traveller in the nineteenth century who was the first westerner to sample the confectionery and ship some home to the UK because he liked it so much. Turkish Delight soon became as popular in Europe and America as it was in Turkey and was enjoyed by some very famous people.
This box contains an assortment of apricot, strawberry, rose and orange flavored loukoumi .
Reviews (0)
Write Review
Your Name:
Your Review:
Note:

HTML is not translated!
Enter the code in the box below:


Continue