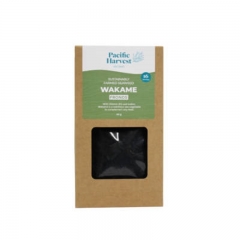 There are no additional images for this product.
Pacific Harvest Wakame Seaweed Fronds (Sustainably Farmed) – 40gm.
$18.95
Average Rating: Not Rated
Availability: In Stock
Description
Pacific Harvest, the 'seaweed company' as we have been called, specialises in dried, edible seaweeds you can add to your food. All our seaweeds have been sustainably harvested and tested for contaminants for over 18 years. We're passionate about seaweed. We hope to inspire change which positively impacts the health of both people and our planet.
Farmed Wakame seaweed adds a unique but subtle umami flavour to many dishes. Wakame works well in salads, stir fries or soups, as well as many other dishes.
Our farmed Wakame is a great addition to any diet- depending on seasonality, it is high in Iodine, Calcium, Magnesium, and contains Vitamins A, B1, B2, B6, C, and K.
Directions: Re-hydrate your wakame in tepid water for a few minutes. This will cause the leaves to expand 5-10 times their dried size. Once rehydrated, they can be used to wrap food parcels, or chop dry leaves onto food as a seasoning or garnish.
Our wakame is either farmed or wild harvested, then air dried to preserve colour and nutrients. We then test for contaminants before packing our seaweed in our New Zealand facility. The white powder you see on the leaf is what is said to give seaweed its natural umami flavour and is not to be confused with mould.
Ingredients: Wakame (Undaria sp.) dried sea vegetable 100%.
16 servings per pack
Reviews (0)
Write Review
Your Name:
Your Review:
Note:

HTML is not translated!
Enter the code in the box below:


Continue