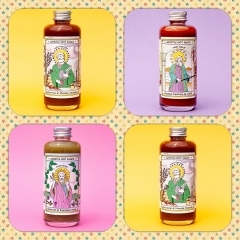 There are no additional images for this product.
Apostle Hot Sauce. NZ. 150ml.
$14.50
Average Rating: Not Rated
Availability: In Stock
Description
Apostle Hot Sauce was conceived in 2018 following our move to Paekākāriki. Mat had been concocting delicious sauces for years, so in an attempt to get to know our community, we started selling them at our local market. With an overwhelmingly positive response from our new friends and neighbours we decided we had to do more. We have a strong passion for using local ingredients, the peppers we use are hand picked and the Kawakawa leaves are from our own garden. We refuse to use any artificial colours, preservatives, flavours or thickeners, instead relying on fresh ingredients to create our vibrant range of sauces.
We offer a unique range of small batch sauces handmade in Paekākāriki. Our aim is to create a delicious range of flavours inspired by New Zealand's wonderfully diverse culinary landscape. It's not just about heat. Our hand picked manzano chillies and tart green Jalapeño peppers help craft a deep, complex sauce that beautifully complements your meal, not overwhelms it with spice.
Saint Matthew - Chocolate & Manuka Chipotle 150ml
A deep floral and earthy blend of manuka smoked chipotle and dark cocoa create a rich base for our spectacularly full-flavoured Mole Poblano inspired hot sauce.
Saint John - Mango, Turmeric & Ginger 150ml
We have perfectly balanced a blend of succulent mango, refreshing ginger & vibrant turmeric to create a uniquely fruity hot sauce.
Saint Phillip - Roasted Capsicum & Chilli 150ml
Slow roasted capsicum & manzano chillies create a rich, smokey depth of flavour in our take on a classic red hot sauce.
Saint Peter - Kiwifruit & Kawakawa Verde 150ml
A unique blend of tangy kiwifruit, peppery New Zealand Kawakawa and locally grown jalapeños. This piquant verde is great with tacos, fish, roast veggies & more.
Reviews (0)
Write Review
Your Name:
Your Review:
Note:

HTML is not translated!
Enter the code in the box below:


Continue