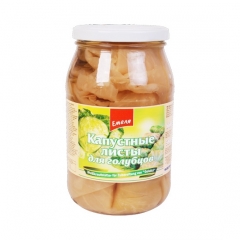 There are no additional images for this product.
CABBAGE LEAVES EMELYA 900ML
$8.50
Average Rating: Not Rated
Availability: Pre-Order
Description
Cabbage since ancient times is famous not only for its excellent culinary properties, but also for powerful medicinal possibilities, which is due to the rich composition of the plant.
Here an excellent set of mineral salts, in particular calcium, phosphorus, sulfur, potassium, lactose, lipase, vitamins, fats, phytoncides.
In addition to vitamins A, C, B1, B6, K, P, cabbage can be found and vitamin U or methylmethionine sulfonium chloride. This powerful antiulcer, which is a derivative of the essential amino acid methionine.
Useful properties of this plant are largely supported by the presence of phytoncides and lysozyme. Phytoncides suppress the reproduction of protozoa and microbes, and lysozyme exhibits a powerful bactericidal effect.
Reviews (0)
Write Review
Your Name:
Your Review:
Note:

HTML is not translated!
Enter the code in the box below:


Continue