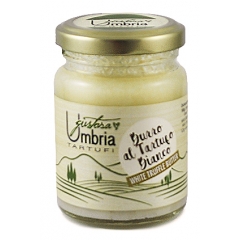 There are no additional images for this product.
Gustosa Umbria Tartufi White Truffle Butter 80gm.
$23.00
Average Rating: Not Rated
Availability: In Stock
Description
Gustosa Umbria Tartufi is a company based in Orvieto, Umbria, the historical residential site of the pontifical courts, as well as the City of Corpus Domini, in one of the most evocative frames that our territory can offer. It is no coincidence that this area is known to be the green heart of Italy. This is the company that moves from the typical tradition of the region, its peculiar cultivations, towards the most refined and innovative production methods.
White Truffle Butter 80gm.


High quality butter, blended with white truffles.
Can be used with pasta, meat, seafood, eggs and put through mashed potato.
Also great as a spread on its own.
Ready to use product. The butter is a fat suitable for quick cooking, thicken, cream and produce a soft and creamy consistency to various preparations

Reviews (0)
Write Review
Your Name:
Your Review:
Note:

HTML is not translated!
Enter the code in the box below:


Continue