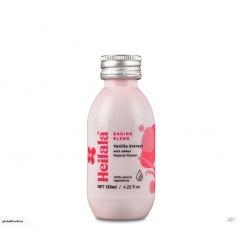 There are no additional images for this product.
Heilala Baking Blend Vanilla Extract with added Natural Flavour 125ml.
$15.00
Average Rating: Not Rated
Availability: In Stock
Description
While adding flavour and fragrance to your cooking, we give back to the Tongan communities where Heilala vanilla pods are hand-picked for ripeness.

Ideal for everyday baking such as cookies and cupcakes, or any time vanilla is a complimentary flavour.

Substitute an equal amount of Baking Blend Vanilla in place of vanilla essence or paste.

INGREDIENTS:

Heilala Vanilla Bean Extract (Vanilla Bean Extractives in Water and Alcohol), Natural Vanilla Flavour, Sugar

CONTAINS NOT MORE THAN 10% ALCOHOL BY VOLUME
Reviews (0)
Write Review
Your Name:
Your Review:
Note:

HTML is not translated!
Enter the code in the box below:


Continue