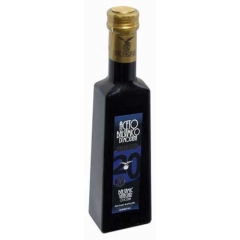 There are no additional images for this product.
De Nigris 20 Star Balsamic Vinegar. 250ml.
$48.95
Average Rating: Not Rated
Availability: In Stock
Manufacturer:
De Negris
Description
Balsamic Vinegar of Modena is an ancient product having been recorded in the royal archives of Emperor Henry Il in 1046, when he gave some as a gift to Countess Matilde of Canossa. At that time it was used as an elixir and the recipe was a secret, passed from father to son. Since then, Balsamic Vinegar has been known as a precious condiment with special therapeutic properties. It is the essential garnish for an exquisite tabletop.
Artisan quality Balsamic Vinegar of Modena is made using ancient procedures. The process begins with careful selection of the Lambrusco and Trebbiano grapes, grown in the Modena region. They are ideal for the high sugar content required for production. These grapes are pressed and the resulting juice called "must" is heated in copper cauldrons until the volume is reduced through evaporation to about 40% of the original weight. The liquid is then decanted into wooden barrels (chestnut, oak, juniper and cherry) and left to age and transform into vinegar. As the time goes by, part of the liquid evaporates and part of the liquid is absorbed into the wood. This is the moment called "rincalzo" which happens in the period of grape harvest. The liquid is transferred into smaller barrels while the new "must" is added to "top off" the bigger barrel. And so continues the process.
20 stars quality is aged in wooden barrels until the sweetness of the natural sugars predominates the flavour of the vinegar. the consistency of the product is like syrup and it is recommended for recipes in which the delicate flavour is complementary to the food being prepared, like fire roasted peppers or fresh mozzarella
Reviews (0)
Write Review
Your Name:
Your Review:
Note:

HTML is not translated!
Enter the code in the box below:


Continue