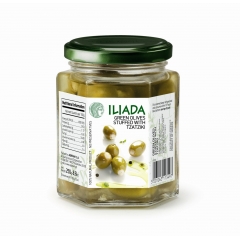 There are no additional images for this product.
Greek Iliada Green Olives stuffed with tzatziki. 250gm.
$10.50
Average Rating: Not Rated
Availability: In Stock
Manufacturer:
Iliada
Description
These excellent quality pitted green olives are stuffed with one of Greece's most famous delicacies... Tzatziki. For those that don't know, tzatziki is a Greek dip, one of the main ingredients of the traditional souvlaki. It's base is "greek style" youghurt, with other ingredients beeing garlic, cucumber and of course, olive oil.
100% natural product. NO preservatives, NO additives!
Reviews (0)
Write Review
Your Name:
Your Review:
Note:

HTML is not translated!
Enter the code in the box below:


Continue