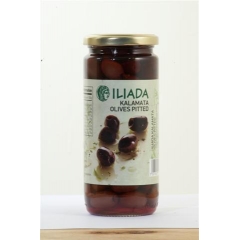 There are no additional images for this product.
Greek Iliada Pitted Kalamata Olives 500gm.
$9.10
Average Rating: Not Rated
Availability: Out Of Stock
Manufacturer:
Iliada
Description
KALAMATA PITTED OLIVES JAR 500gr
The most famous variation of Greek olives is the Kalamata type. In this type of Greek olives, incisions are made in the fruit to facilitate washing with water or brine, which proceeds rapidly owing to the low oleuropein content of the variety.
The olives are immersed in wine vinegar for one or two days and are packed in fresh 6% or 8% brine with pieces of lemon. Olive oil is often added to form a surface film, just to keep them fresh.
These olives are highly rated for they flavor. Kalamata is a protected designation of origin for olives as well. ILIADA brand sources all these olives from the area of Kalamata so they are all certified as a P.D.O. product.
The pitted variety has the pips removed but due to the nature of the fruit, some traces may remain.
Ideal for pizzas, salads and any recipe requiring olives.
Forget what you think olives are supposed to taste like! These are superb!
I love a plate of these with cubed feta and drizzled with Iliada olive oil or Iliada olive oil & lemon juice dressing.
Living in or passing by Masterton? Try before you buy!
Reviews (0)
Write Review
Your Name:
Your Review:
Note:

HTML is not translated!
Enter the code in the box below:


Continue