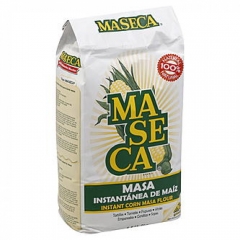 There are no additional images for this product.
Maseca Masa Harina. 2kg.
$24.50
Average Rating: Not Rated
Availability: In Stock
Description
Mexican cornmeal. It has a very distinctive flavour because of the way the corn is processed.
Essential for corn tortillas, corn chips and tamales.
Try making your own tortillas - it's not hard and you'll never look back!
Reviews (0)
Write Review
Your Name:
Your Review:
Note:

HTML is not translated!
Enter the code in the box below:


Continue