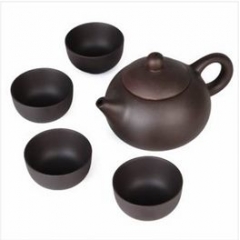 There are no additional images for this product.
5Pcs/set Kung Fu Tea Chinese Ceramic Cups Yixing Purple Clay Tea Pot
$26.00
Average Rating: Not Rated
Availability: Pre-Order
Description
Kung fu tea, not tea or tea to the name of the class, but a cooking tea techniques.Is called kungfu tea, because this way of making tea is very exquisite, operate requires some effort, kung fu is the knowledge of making and drinking of kung fu, did not have a good time is not a bubble good tea. Taste the kunfu tea is best where there is no wind, home is the best, of course. Finally put the classical music, there is quite a different refined.

Description:
Purple clay teapots are well-known.Yixing's brown earth pottery is made of a peculiar kind of local red clay.
Also, because purple sand soup pot of purple sand rich in iron, which can decompose in the food fat, lower cholesterol levels. Note clay is not purple in color.

Features & details:
Name: Yixing clay tea pot
Color: black
Material: Ceramic
Size: teapot: 12cm * 7cm
teacup: 4.8cm* 2.8cm
Capacity: teapot: 120ML
teacup:20ML

Package included:
1 x teapot
4 x teacup

NOTE: Item is sent direct from overseas. Please allow 3-4 weeks for delivery.
Reviews (0)
Write Review
Your Name:
Your Review:
Note:

HTML is not translated!
Enter the code in the box below:


Continue