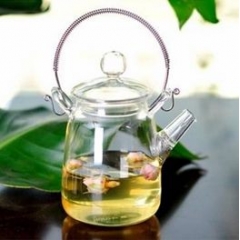 There are no additional images for this product.
350ml Borosilicate Glass Teapot For Blooming Tea
$18.00
Average Rating: Not Rated
Availability: Pre-Order
Description
Description:
1. Using high-borosilicate green glass, crystal clear, good texture.
2. With strong mechanical strength and thermal shock temperature changes on a strong performance.
3. Strong strong of acid and other chemicals.
4. Easy to clean and does not adsorb the taste of tea.
5. Non-toxic, tasteless, without any pollution for food
6. Mainly used in herbal tea, black tea, green tea, tea, health tea and process tea, can also be used to brew coffee and milk products,
there is a high ornamental, fun, not just to enhance your Lifestyle!

Features & details:
Size:14x9.5cm
Material: glass(HBG)
Color: clear
Capacity: 350ml
Heat: -20 ?--150 ? (expansion coefficient 3.3)

Note: Please use a mild detergent solution, scrub with a soft wash cloth, if there are some tea scale, you can gently scrub with a little toothpaste.


NOTE: Item is sent direct from overseas. Please allow 3-4 weeks for delivery.
Reviews (0)
Write Review
Your Name:
Your Review:
Note:

HTML is not translated!
Enter the code in the box below:


Continue