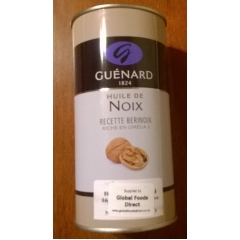 There are no additional images for this product.
French Walnut Oil 500ml
$22.00
Average Rating: Not Rated
Availability: In Stock
Description
French Walnut Oil.
Walnut Oil has some very interesting health benefits, as there is alpha-linolenic acid which can help prevent cardiovascular diseases, as well as being a regulator of blood cholesterol. In addition to this, Walnut Oil is also rich in magnesium, iron and vitamin B6 & E. Due to the sweet and bitter nature of our Walnut Oil, it makes a perfect accompaniment to salads, and also makes a wonderful vinaigrette when added to Balsamic Vinegar. The Walnut Oil also tastes divine when added to grilled fish, or simmered into a dish like boeuf bourguignon, or simmered into a coq au vin. To keep the Walnut Oil at its best, store in a cool and dark place, or alternatively keep in the door of your refrigerator.
15% virgin and 85% refined oil.
Note: Brand may vary depending on availability, but will always be French.
Reviews (0)
Write Review
Your Name:
Your Review:
Note:

HTML is not translated!
Enter the code in the box below:


Continue