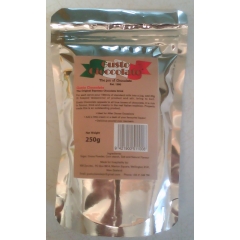 There are no additional images for this product.
ALL NATURAL ITALIAN STYLE Gusto Cioccolato Hot Chocolate Mix. AWARD WINNING. GLUTEN FREE
$6.00
Average Rating: Not Rated
Availability: 2 - 3 Days
Description
The Original Chocolate Drink
This chocolate is made using the steam pipe on your espresso maker.
Gusto Cioccolato appeals to all lovers of chocolate, it's rich in flavour and thick and creamy just like the real Italia tradition, as well as being an outstanding product.
Gusto Cioccolato is an all natural product, made from the finest of ingredients.
You can enjoy a delicious cup of Gusto Cioccolato anytime of the day from your morning chocolate fix to a late night treat.
Also great in baking. Try rolling truffles in this exquisite powder.
Why Choose GUSTO CIOCCOLATO?
• Unique taste and smooth texture that gives you the full flavour chocolate hit. A compliment to any sweet or dessert.
• Long shelf life which does not require refridgeration.
• It can also be used to make tasty iced chocolate drinks or as a hot chocolate sauce poured over your favourite desserts.
• Voted Wellington's best hot chocolate 2010 "Capital Times"
• 100% New Zealand Made.
ALL NATURAL
GLUTEN FREE
AWARD WINNING
Reviews (0)
Write Review
Your Name:
Your Review:
Note:

HTML is not translated!
Enter the code in the box below:


Continue