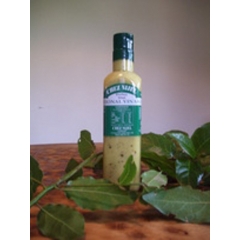 There are no additional images for this product.
Chez Nijel Traditional Vinaigrette. 500ml.
$9.75
Average Rating: Not Rated
Availability: In Stock
Description
Chez Nijel Home Made Vinaigrette

This vinaigrette is great whether you are having a picnic, BBQ, or banquet. This delicious dressing with it's unique taste will truly enhance and complement your buffet. Ideal for Pastas, Seafood, Smoked Fish, Avocados, Vegetables or any salad of your choice.
TRADITIONAL
VINAIGRETTE
INGREDIENTS
Canola Oil (Refined Canola Oil, Antioxidant (319), Antifoam (900a)) Water, Mustard (Water, Mustard Seed, Vegar, Salt, Spices, Acidity Regulator (260)), White Vinegar, Sugar, Extra Virgin Olive Oil, Salt , Herbs and Black Pepper
Gluten and Dairy Free
NUTRITIONAL INFORMATION
Servings per bottle:17
Serving size:30g (2 tablespoons)
AVGE QTY
per 30g
Energy 255 kj
Protein 0.3g
Fat, Total 5.4g
-Saturated 0.5g
Carbohydrates 3.0g
Sugars 2.0g
Sodium 255mg

AVGE QTY
per 100g
850kj
0.9g
18.0g
1.7g
9.9g
6.7g
850mg
Reviews (0)
Write Review
Your Name:
Your Review:
Note:

HTML is not translated!
Enter the code in the box below:


Continue