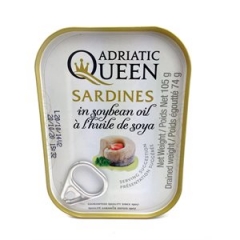 There are no additional images for this product.
Adriatic Queen Sardines in soybean oil. 105gm.
$4.80
Average Rating:

Availability: In Stock
Description
The year 2013 saw the completion of an extensive investment into a new production plant and the launching of Adriatic Queen, a new brand of canned fish products, which marked the beginning of a new era in the company's business activities. The superior quality of Sardina's products has now been further enhanced with new state-of-the-art manufacturing technology and improvement of its business processes. This is why we decided to develop a new brand of products and offer even better and healthier food to our customers. The new brand is produced in our new plant with the use of the latest technology – our products are still made according to hundred-years old recipes, but we are constantly improving their quality.
Sardina is a leader on the regional market and a strategic supplier to all retail chains in the region. Our brand Adriatic Queen is sold on markets throughout the world, from European countries to the USA, Canada and Australia.
Reviews (1)
Write Review
Your Name:
Your Review:
Note:

HTML is not translated!
Enter the code in the box below:


Continue