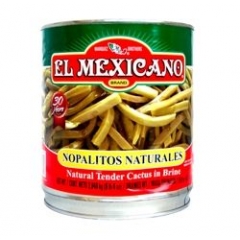 There are no additional images for this product.
Nopalitos - Nopales - Cactus Leaves Strips 2.8kg.
$32.00
Average Rating: Not Rated
Availability: Out Of Stock
Manufacturer:
El Mexicano
Description
Nopalitos - Nopales - Cactus Leaves Strips 2.8KG.
Nopalitos refers to the pads of a cactus once they are cut up and prepared for eating.
You won't find anything but juicy green veggies in here, no sharp surprises!

You can use them in a variety of ways, our favourite is :

Ensalada de Nopalitos (Cactus Salad)

I N G R E D I E N T S
3 cups cooked nopales
3 tbsp chopped white onion
1/2 cup chopped cilantro
1/2 tsp dried Mexican oregano
2 tbsp fresh lime juice or vinegar

T O P P I N G
3 tomatoes, sliced
1/3 cup chopped cilantro
1/3 cup crumbled queso fresco or añejo or Monterey jack cheese
1/3 cup purple onion rings
3 canned chiles jalapeños en escabeche, cut into quarters lengthwise
1 avocado, peeled and sliced (optional)
romaine lettuce for the side of the serving platter

I N S T R U C T I O N S

1. Mix the nopalitos with the next four ingredients and set aside to season for 30 minutes. Stir well and adjust seasoning.
2. Spread the nopalitos over the platter about 1 1/2 inches deep. Decorate with the tomatoes slices and top with cilantro, cheese, onion rings, chile strips, and slices of avocado (if used).
3. Overlap the romaine leaves around the edges of the platter and serve at room temperature.
Reviews (0)
Write Review
Your Name:
Your Review:
Note:

HTML is not translated!
Enter the code in the box below:


Continue