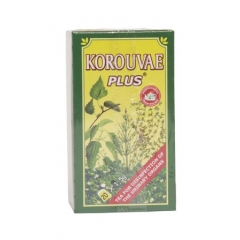 There are no additional images for this product.
Koro Tea. Uva Plus. Bearberry Tea. 20pce.
$6.00
Average Rating: Not Rated
Availability: Pre-Order
Description
Bearberry was first documented in The Physicians of Myddfai, a 13th century Welsh herbal, it was also described by Clusius in 1601, and recommended for medicinal use in 1763 by Gerhard and others. Often called uva-ursi, from the Latin uva, "grape, berry of the vine", ursi, "bear", i.e. "bear's grape". It first appeared in the London Pharmacopoeia in 1788.
Bearberry purportedly gets its name from the fact that the berries seem to be a favorite food of bears.
Uva ursi acts as a natural diuretic. It has been used historically to treat cystitis, urolithiasis, and other urinary tract infections.


It is a traditional bladder treatment used in European folk medicine. In northern Europe and Eurasia, bearberry tea has been a traditional herbal treatment for hundreds of years.

Product of Macedonia
Reviews (0)
Write Review
Your Name:
Your Review:
Note:

HTML is not translated!
Enter the code in the box below:


Continue