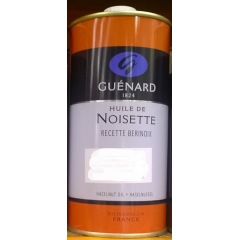 There are no additional images for this product.
French Huile Hazelnut Oil. 500ml.
$27.50
Average Rating: Not Rated
Availability: In Stock
Description
An exceptionally fine, golden oil, elegant with great depth of flavour. Can be used to accompany fish, fromage frais, salads, pastries…
Usage
Roasted hazelnut oil is a well-kept secret of many top chefs. Great in salads, hazelnut oil combines very well with vinegar to produce a light but flavorful vinaigrette. However, some say it goes even better with lemon juice. With pasta, potatoes and beans, hazelnut oil serves as a wonderful substitute for butter. Finally, hazelnut oil works great with fish, and you won't go wrong to give it a try with cheese or carpaccio. Once you "discover" hazelnut oil, you will return time and time again to rediscover this versatile treasure!
Storage
Refrigerate after opening.
Temperature
Suitable for medium-high heat: Perfect for sautéing, baking, dipping, blending into a dressing/sauce, or drizzling on a finished dish.
Health Benefits
While hazelnut oil is a delicious product for your culinary needs, it also has significant health benefits. In fact, the fatty acid composition of hazelnut oil corresponds exactly to that of olive oil, providing the same high oleic-acid content. This health benefit is sometimes known as the "Mediterranean miracle."
Reviews (0)
Write Review
Your Name:
Your Review:
Note:

HTML is not translated!
Enter the code in the box below:


Continue