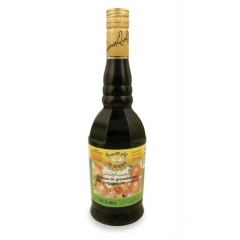 There are no additional images for this product.
Pomegranate Molasses. 300ml.
$11.50
Average Rating: Not Rated
Availability: In Stock
Manufacturer:
Al Rabih
Description
The Pomegranate fruit indigenous to Persia, is usually eaten raw though in some parts of the Middle East it is used in drinks or added to soups.
Pomegranate Molasses is simply the juice from fresh pomegranate seeds that have been cooked down until it is a thick syrup. The syrup is thick and reddish brown and tastes very tart and astringent with a hint of sweetness.
This Middle Eastern ingredient is used to intensify the flavours of sauces and dressings as well as for braising meats or fish.
Please note that the brand may vary depending upon availability.
Full refund will be provided if you are not satisfied.
Reviews (0)
Write Review
Your Name:
Your Review:
Note:

HTML is not translated!
Enter the code in the box below:


Continue