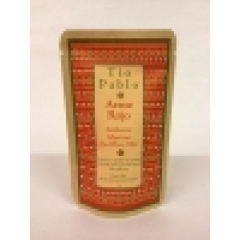 There are no additional images for this product.
Mexican Red Or Green Rice Spice Mix ARROZ ROJO, ARROZ VERDE . 35gm.
$3.70
Average Rating: Not Rated
Availability: In Stock
Manufacturer:
Tio Pablo
Description
ARROZ ROJO FLAVOUR PACKET. 35gm.

A delicious medley of tomatoes, capsicum, peas and spices blended in the traditional "a la mexicana" style, Arroz Rojo is today the most popular "sopa seca" or dry soup in Mexico.

To prepare, simply add this packet to your own rice and cook per instructions.
ARROZ VERDE FLAVOUR PACKET. 35gm.

Spinach, citrus and guajillo chilli create a zesty kick to everyday rice. Simply add into your water when cooking rice. Vegetarian and gluten free.
Enough to flavour 300gm. of rice.
Reviews (0)
Write Review
Your Name:
Your Review:
Note:

HTML is not translated!
Enter the code in the box below:


Continue