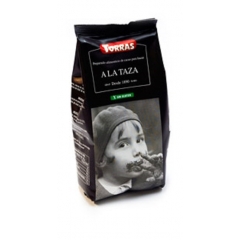 There are no additional images for this product.
Torras Spanish A La Taza Hot Chocolate. Gluten Free. 360gm.
$8.50
Average Rating: Not Rated
Availability: In Stock
Description
Add milk or water to obtain a delicious cup of dense chocolate.
Almost all of us know that the most common derivative from cocoa is chocolate, our specialty for 120 years. But a lot of us don't know its history; cocoa was used in America by the pre-Columbian indians and arrived to Europe thanks to Cistercian and Franciscan monks, that brought it as a restorative beverage and even as medicine. But the discovery wasn't theirs, since american populations had already offered it to Cristopher Colombus in 1502, but he rejected it because of the way they prepared it (a mixture of cocoa with shattered corn, pepper, other spices and natural aphrodisiacs).
After years of experimentation and combination with other Occidental products, the recipe that we know today was found. The origin of the word chocolate is unknown, maybe mayan or aztec, but in the first language "chokol" means hot, "a" means water and "i" is a sufix.
The number of celiac sprue cases have increased recently in different sectors of the population. It is not a disease, but a genetic condition based on an intolerance to gluten, a component found in wheat, barley, rye and oats, the most common cereals in our diet.
In Chocolates Torras we are highly commited with the people affected by this type of intolerance and want our products to be a total guarantee for them. That's why we invite you to taste all our products since they are gluten free.
Reviews (0)
Write Review
Your Name:
Your Review:
Note:

HTML is not translated!
Enter the code in the box below:


Continue