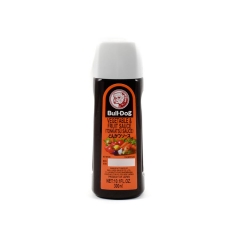 There are no additional images for this product.
Japanese Bulldog Tonkatsu Sauce. 300ml.
$7.80
Average Rating: Not Rated
Availability: In Stock
Description
Bulldog tonkatsu sauce is a savoury-sweet condiment for dressing Japan's famous breadcrumb pork dish. The recipe mixes sweet apple and prune purées alongside savoury ingredients such as onions and carrots, with umami-rich tomato paste, spices and lemon juice.

The sauce also goes well with takoyaki octopus balls and okonomiyaki savoury pancakes. Create a brown and white lattice pattern with Japanese mayonnaise and the tonkatsu sauce for an authentic dressing.
Ingredients: water, high fructose corn syrup, sugar, distilled vinegar (made from alcohol), tomato paste, salt, rice starch, apple puree, yeast extract (contains soy), prune paste, spices (contains celery), carrots, onions, lemon juice. Contains allergens: celery, soy.
Reviews (0)
Write Review
Your Name:
Your Review:
Note:

HTML is not translated!
Enter the code in the box below:


Continue