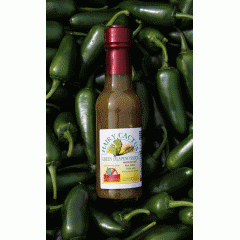 There are no additional images for this product.
Orcona Hairy Cactus Green Jalapeno Sauce. 150ml.
$12.15
Average Rating: Not Rated
Availability: In Stock
Description
Medium to hot traditional green jalapeno sauce.
Orcona Chillis 'n Peppers was started in the year 2000, producing a range of about 12 different chilli varieties for sale fresh to local restaurants and retailers, and for sale through Orconas stand at the Hawkes Bay Farmers Market. The chilli plants are grown in 2,500 sq metres (27,000 sq feet) of temperature controlled greenhouses at Pakowhai in the heart of the "Fruit bowl of New Zealand" as the Hawkes Bay region is known.
Since 2005, the Orcona brand has grown to encompass an expanding range of 100% pure chilli based relishes, sauces and dried chilli products. All of these products are produced on site in Orcona's own commercial kitchen, with no added bulking agents, preservatives, artificial colouring or flavouring. Alvin and Tricia will be adhering to the Orcona philosophy of full flavour 100% pure products and maintain Orconas position as the premium brand of NZ Chilli products.
Reviews (0)
Write Review
Your Name:
Your Review:
Note:

HTML is not translated!
Enter the code in the box below:


Continue