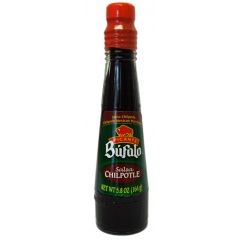 There are no additional images for this product.
Bufalo Chipotle Hot Sauce. 164gm.
$8.50
Average Rating: Not Rated
Availability: Out Of Stock
Description
Hot Sauce Bufalo Hot and spicy, chipotle hot sauce from smoked red jalapenos and spices. (pronounced "chee-POHT-lay"). Buffalo Hot Sauce.
CHIPOTLE PEPPERS
A chipotle pepper is a red Jalapeño chile, ripened, dried, and smoked through a special process. Derived from the Aztec word meaning smoke, jalapeños are placed over huge pits and smoke is blown through tunnels running underground.
Chipotle Characteristics - A unique warm heat and smoky flavor , chipotles are packed in a red adobo sauce made from lightly seasoned tomato broth.
Embasa chipotles are completely shielded from all the elements during processing to produce an exceptional product. Tan - brown, veined and ridged, they are 5-10 cm (2-4 inches) long and 2.5 cm (1 inch) in diameter. Medium-thick fleshed, with a subtle deep rounded heat, they are excellent in sauces, soups, and as a seasoning for meats and stews.
Reviews (0)
Write Review
Your Name:
Your Review:
Note:

HTML is not translated!
Enter the code in the box below:


Continue